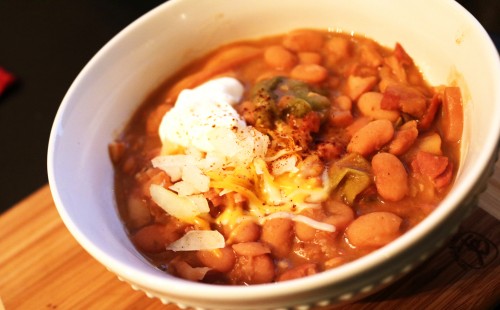 all day beans…pinto beans
I don't know about you but this weekend is going to be all about finishing up some around the house projects and enjoying the nice weather we are going to be having…nice like in weather in the low 80's with a nice breeze.  This is one of the many reason I love living in SE Texas in February…now of course ask me how I feel about it in the summer and I might be singing a different song then…but for now I will take this crazy nice weekend and enjoy a nice pot of beans when all the work is done.  
So you might be asking why would would I want a big hot batch of beans on a nice spring like day well for several reasons.  First they are good…I mean lets be honest we could stop with this one, but I will continue.  Secondly The Hubby LOVES them.  The last one…the whole house will smell amazing giving me motivation to get everything done so I can finally eat them.  
So for the last 10 years I have been attempting to make a big pot of pinto beans that would live up to The Hubby's memories of his mom's beans…and I have to admit I don't think I have done that just yet, but I do think I have created a new memory with these AMAZING all day beans.  
MJ
10 servings
All Day Pinto Beans
Tender pinto beans that are full of flavor...even better they are super easy to pull together for dinner this weekend
10 minPrep Time
6 hrCook Time
6 hr, 10 Total Time
Ingredients
4 cups dry pinto beans
1 tsp extra virgin olive oil
1 onion, chopped
2 garlic cloves, minced
2 tsp all purpose seasoning
12 cups water
2 tsp Worcestershire sauce
1 tsp chicken bouillon
2 anaheim, fresno or jalapeno peppers
1 salt pork
Optional Toppings:
Grated cheese
Sour cream
Chopped onions
Chopped jalapeno peppers
Green onions
Tortilla Chips
Directions
In a large colander rinse beans for a few minutes and then leave in colander to drain for 5-10 minutes
In a large stock pot heat oil over medium heat
Add in onion and cook, stirring often until they begin to soften, about 4-5 minutes
Add in garlic & seasoning cooking for an additional 2 minutes, stirring often
Pour in water, beans, worcestershire sauce & bouillon
Using a very sharp knife place a large slit in 2 sides of the pepper, making sure to not cut the pepper open
Add peppers and salt pork to beans
Bring mixture to a boil, stirring often
Reduce heat to a high simmer (medium-low) and place the lid half on/half off, giving the steam a way to escape and allowing the beans to thicken as they cook down
After 5 or so hours taste and add seasoning as needed, making sure to slowly add salt as the salt flavor will become more concentrated as they cook down
Serve with any toppings you prefer
ENJOY!
Notes
Each serving (3/4-1 cup) is 8 WW Smart Points:
Nutritional Info Calories 311 Calories from Fat 42 Total Fat 4.7g Saturated Fat 1.5g Trans Fat 0.0g Cholesterol 5mg Sodium 71mg Potassium 1112mg Total Carbohydrates 50.0g Dietary Fiber 12.3g Sugars 2.4g Protein 17.2g Vitamin A 1% - Vitamin C 12% - Calcium 10% - Iron 22% Nutrition Grade A
7.8.1.2
87
https://sparklesnsprouts.com/2016/02/19/pinto-beans/
All images are the property of Sparkles n Sprouts, to use image please contact the webmaster at michelle@sparklesnsprouts.com
To make the beans a little updated and more sparkly I started with the basics of onions, garlic, dry beans, & salt pork and then comes the fun…peppers & a few other surprises.  I used fresno peppers, and left them whole with a couple of slits in each peppers to let them season the beans as they cooked all day, but you could use poblano peppers or anaheim peppers…whatever you prefer.  Then I threw in some chicken bouillon, and worcestershire.  Trust me when you bring everything together a delicious, hearty and very comforting pot of beans is created making for a perfect end to a busy day.
To make the beans even more perfect I topped them with some sour cream, cheese, onions while The Hubby topped his with tortilla chips, cheese and some sour cream.  However you choose to top these beans you will be oh so happy you let them cook all day long!  
Make everyday sparkle – MJ