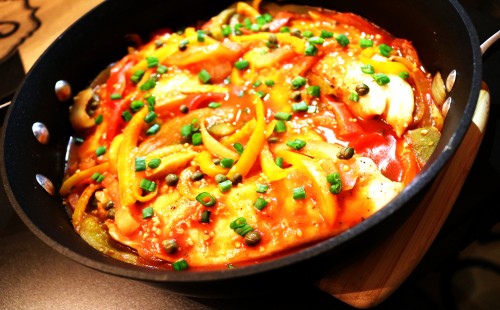 a memory remade for my love from veracruz
Do you and your love go out to eat on Valentines Day or do you stay home and enjoy a quite night without all the crowds.  The Hubby and I have done both, and we both agree staying home is really nice.  You can fix exactly what you want (like this tilapia veracruz) and then you can watch your favorite romcom and call it a night…it is a win win for everyone.
Now most Valentines Day that we stay home The Hubby will grill steaks and I will fix some sides that we both love, such as twice baked potatoes, creamed spinach and then something yummy for dessert…but this year I wanted to change it up and I decided fish was on the menu.  To make it even better I am going to fix a quick and easy one pan meal making it super simple to clean-up so I can spend more time with The Hubby.
Now it is no secret that we both love salmon, but in reality we love most fish and for this dish I wanted to spotlight tilapia.  Why tilapia you ask??  Well tilapia is a very mild but still hearty fish, it is also very cost friendly making it perfect for a larger dinner as well, plus it cooks super quick and no prep is needed.
MJ
4 servings
Tilapia Veracruz
This skinny one pan meal is a perfect quick weeknight dinner that will make your dinner something to remember without a lot of trouble or guilt
10 minPrep Time
25 minCook Time
40 minTotal Time
Ingredients
1 tbsp extra virgin olive oil
1 red bell pepper, chopped into strips
1 green bell pepper, chopped into strips
1 yellow bell pepper, chopped into strips
1 onion, sliced into strips
3 garlic cloves, minced
1 tsp salt
1 tsp pepper
2 tbsp capers
1 cup tomato sauce
1 cup chicken stock
1 lb tilapia filets
1 tsp salt
1 tsp pepper
Green onions, chopped
Directions
In a large skillet heat olive oil over medium high heat
Add in chopped bell peppers and onions and cook until just beginning to soften, about 5-7 minutes
Add in garlic, salt & pepper, stirring often for 1-2 minutes
Stir in capers, tomato sauce & chicken stock brining to a low boil
Reduce heat and let simmer for 5 minutes to let sauce come together and reduce slightly
While sauce is cooking season tilapia with salt & pepper on both sides
Place fish on top of peppers & sauce and gently spoon a little sauce over fish
Cover pan and cook on medium low for 10 minutes, or until fish is flaky
Serve immediately with sauce and veggies and top with chopped green onions
ENJOY!
Notes
Each serving (1 fish filet and about a cup of sauce & veggies) is 6 WW Smart Points:
Nutritional Info Calories 240 Calories from Fat 67 Total Fat 7.5g Saturated Fat 1.9g Trans Fat 0.0g Cholesterol 67mg Sodium 2248mg Potassium 886mg Total Carbohydrates 13.1g Dietary Fiber 3.8g Sugars 7.7g Protein 31.8g Vitamin A 60% - Vitamin C 202% - Calcium 6% - Iron 14% Nutrition Grade B-
7.8.1.2
92
https://sparklesnsprouts.com/2016/02/09/tilapia-ceracruz/
All images are the property of Sparkles n Sprouts, to use image please contact the webmaster at michelle@sparklesnsprouts.com
The idea for this dinner came form a meal The Hubby and I had on our anniversary trip to Mexico.  It has a ton of sautéed veggies (primarily peppers) in a rich tomato based sauce dotted with capers (& olives if you like them) that the fish cooks in making it super flavorful with each bite.  When we had this dish in Mexico the first thing we both noticed was the bright colors of the peppers, there was red, orange and yellow peppers then the aroma of the tomato sauce that had tons of flavor in it and then of course the beautiful pieces of fish sitting so delicately on the peppers…it truly was art on the plate, almost too pretty to eat but of course we did eat it.  In the original dinner there were olives in the dish but for The Hubby I used capers instead, it is totally a preference…either will work as the brininess really brings a brightness to the dish.  You could also add in some fresh spinach at the very end or carrots with the peppers in the beginning for even more veggie love.
If tilapia is not your favorite you can use another fish you like such as salmon or flounder just make sure to adjust cooking time as needed.
This easy, and yes skinny dinner, is a perfect Valentines Day dinner.
Make everyday sparkle – MJ