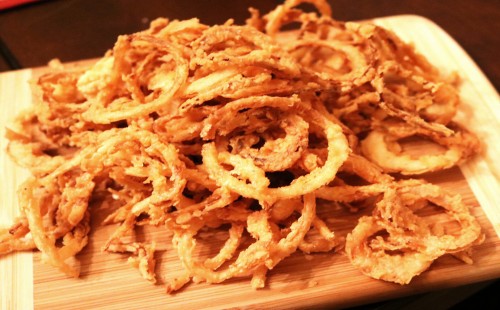 fryin' up a super yummy onion strings
What are you serving up this weekend for the Big Game?  Are you doing all appetizers, BBQ, pot luck, or burgers and hot dogs?  Whatever you are serving these onion strings are amazing and will be a hit with all your guests for sure!  
Ok, now I know I have been trying to eat healthier and post healthier recipes but sometimes you just have to splurge a little and for me Super Bowl Sunday is always one of those days.  Now I am not saying you have to go crazy but a little splurge here and there will be ok.  For me a splurge is either going to be something sweet (like a cupcake) or something fried like these onion strings…and this weekend I am all about these onion strings.
Now I have had my fair share of onion rings, but my favorite are always the onion strings…the thinner the better.  To make them super skinny I broke out one of my favorite kitchen tools…the mandoline (you can find my favorite one here) and went to slicing the onions.  ***Please make sure you are super careful when using this tool, it is very sharp and you can easily cut the tip of your finger off if you aren't paying attention.***  OK, now that we have had our public service announcement back to the onion strings.
MJ
8 servings
Onion Strings
Crispy onion strings that are better than your favorite restaurant...trust me these will be a hit everytime you serve them
2 hrPrep Time
10 minCook Time
2 hr, 30 Total Time
Ingredients
2 onions, sliced as thin as possible (preferably on a mandolin)
4 cups low-fat buttermilk
2 cups flour
1 tbsp pepper
1 tsp chili powder
2 qts vegetable oil (for frying)
1 tbsp salt
Directions
Slice onions as thin as possible, preferably using a mandolin
Place in a casserole dish
Pour buttermilk over onions
Cover dish with saran wrap and place in the refrigerator for at least 1 hour but 2-4 is best
Heat oil in a deep fryer, or a large dutch oven to 350 degrees
In a shallow bowl combine flour, pepper and chili powder
Using tongs (or your hands) dredge some onions into the flour, shaking excess buttermilk off before placing in flour and then again after dredging - I did mine in 4 different batches
Place coated onion strings into hot oil (very carefully) and cook until light golden brown (abut 4-5 minutes)
Remove and place on a plate with a paper towel to let excess oil drain off
Sprinkle with salt
Serve & ENJOY!!
Notes
Each serving is 7 WW Smart Points:
Nutritional Info Calories 215 Calories from Fat 108 Total Fat 12.0g Saturated Fat 2.7g Cholesterol 4mg Sodium 805mg Potassium 213mg Total Carbohydrates 21.6g Dietary Fiber 1.2g Sugars 5.7g Protein 5.5g Vitamin A 2% - Vitamin C 5% - Calcium 13% - Iron 7% Nutrition Grade C
7.8.1.2
97
https://sparklesnsprouts.com/2016/02/04/onion-strings/
All images are the property of Sparkles n Sprouts, to use image please contact the webmaster at michelle@sparklesnsprouts.com
To add some extra flavor, and to also take out some of the harshness of the onions, I soaked the sliced onions in buttermilk for about 3 hours.  This makes the onions more tender and also adds a great tang when fried…making for a great onion string.  When I was ready to fry the onion strings I dredged them in seasoned flour and then dropped them into my deep fryer (I use this one) and let them cook until they are golden…and trust me the smell is AMAZING and worth the effort for sure.  
The first time I made these onion strings I made them earlier int he day and kept them in the oven on a very low temp (275 degrees) to keep them warm, but still crisp and it worked great.  
Trust me this onion strings will be a touchdown at your Super Bowl party for sure…and don't worry a little splurge is ok!!
Make everyday sparkle – MJ