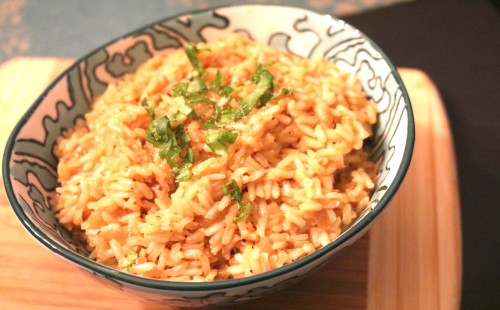 garlic & brown rice make a happy couple
I have a new love…BROWN RICE!  Now rice has always been a love but all of a sudden brown rice is the only rice I crave…and trust me when I say crave I mean CRAVE!  
Not too long a go I was not feeling so good…I got a cold that wouldn't leave me alone and the only thing I wanted to eat was brown rice.  I love the nuttiness of the rice, the texture of the rice and I really LOVE how flexible this rice can be.  It really does take on almost any flavor or spices you throw at it to making it so versatile and perfect for almost any day.
For this particular dinner I was making my Sassy Salmon and I wanted a simple side that would not only stand on its own but also be a perfect compliment to this already delicious dinner.  
To start with I have a special ingredient I use almost every time I make rice…chicken stock.  I cook my rice in chicken stock (or maybe beef stock depending on the dish it will be accompanying).  So why do I do that you ask…why not just water?  Well I have found that it adds a ton of flavor without a ton of calories and fat while really letting the spices and herbs shine through with the rice.  
MJ
6 servings
Skinny Garlic Basil Rice
A healthy brown rice recipe that is so full of flavor you would never know it is a good for you recipe
5 minPrep Time
30 minCook Time
40 minTotal Time
Ingredients
2 tsp extra virgin olive oil
1 cup onion, chopped
4 garlic cloves, minced
1 1/2 cups dry brown rice
2 cups chicken stock
1/2 cup fresh basil, chopped
1 tsp salt
1 tsp pepper
Directions
In a medium saucepan heat olive oil over medium heat
Add in onion and cook until softened, about 4-5 minutes
Stir in garlic and cook for an additional 2 minutes
Stir in rice and cook for an additional 2 minutes, stirring to coat rice and let it toast up a bit
Add in in chicken stock, basil, salt & pepper, stirring to combine
Bring to a boil
Cover and reduce to a simmer, cooking until all liquid is absorbed and rice is tender
Fluff with a fork
Top with additional basil if desired
Serve & Enjoy!!
Notes
Each serving (about 1/2 cup) is 6 WW Smart Points:
Nutritional Info Calories 201 Calories from Fat 28 Total Fat 3.1g Saturated Fat 0.5g Cholesterol 0mg Sodium 645mg Potassium 179mg Total Carbohydrates 39.1g Dietary Fiber 2.2g Sugars 1.1g Protein 4.2g Vitamin A 2% - Vitamin C 4% - Calcium 3% - Iron 6% Nutrition Grade A-
7.8.1.2
102
https://sparklesnsprouts.com/2016/01/27/garlic-brown-rice/
All images are the property of Sparkles n Sprouts, to use image please contact the webmaster at michelle@sparklesnsprouts.com
For this rice I wanted to showcase garlic and fresh basil.  I thought this combo would work well with the sweet and spicy salmon while still letting it shine on its own.  As it turned out I loved the salmon but I really LOVED the rice.  It was tender with hints of fresh basil and garlic in each bite.  If basil is not your favorite you could use fresh parsley or another favorite herb such as thyme or even sage…really making it perfect for your family.
I know my love for brown rice may seem a little crazy but trust me once you start playing with some flavors you will fall in love with it as well.
Happy (half) Baked Life – MJ