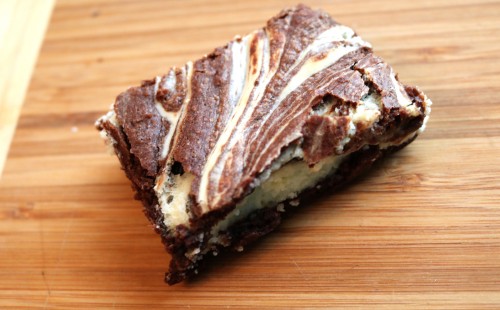 you have been good…time for a brownie
We have been so good for the whole first week of 2016 and this weekend calls for a little treat…right?  And a brownie sounds like the perfect treat and these brownies laced with cream cheese make them an ultimate treat for sure.  
Overtime I make these brownies they are gone before I can get a good pic so this last time I decided to set a few aside so after our company left I could take my pics…well that isn't how it quite worked out.  My husbands family was over playing one of their favorite card games and as they played they kept eating the brownies…everyone LOVED them!  Eventually all the brownies were gone so I removed the plate and went on about what I was doing…so happy I had set a few back for later.  
MJ
20 brownies
Cream Cheese Brownies
A rich, creamy and chocolatey brownie that is a perfect treat anytime of the day
15 minPrep Time
25 minCook Time
1 hrTotal Time
Ingredients
Cheesecake Filling:
8 oz cream cheese, room temperature
1/4 cup sugar
1 tsp vanilla
1 egg
1 cup white chocolate chips
Brownie Batter:
1/4 cup butter
1 cup dark chocolate chips
1/4 cup sugar
1/4 cup brown sugar
1 tsp vanilla
2 eggs, lightly beaten
2/3 cup flour
1 tsp espresso powder (optional)
1/2 tsp baking powder
1/2 tsp salt
Directions
Preheat oven to 350
Line a 9x9 pan with parchment paper, set aside
For the cheesecake filling:
In the bowl of a stand mixture fitted with a paddle attachment, cream together cream cheese and sugar until smooth
Add in vanilla & egg and mix until smooth
Stir in white chocolate chips and set cheesecake mixture aside
For the brownies:
In a saucepan melt chocolate and butter over medium low heat, stirring constantly to keep from burning, once smooth remove from heat and let cool for 5 minutes
Mix in sugars and vanilla until well combined
Stir in eggs until just mixed in
Add in flour, espresso powder (if using), baking powder and salt, stirring until the flour is just incorporated
Pour half of the brownie batter into the prepared pan
Spread cream cheese mixture over brownie batter
Pour remaining brownie batter over cream cheese mixture
Using the back of a knife gently swirl together the brownie and cream cheese layers to create a few swirls on the top
Bake for 25-30 minutes, or until the top is cracked and just set
Remove and let cool completely before cutting
ENJOY!!
Notes
Each brownie is 9 WW+ points:
Nutritional Info Calories 154 Calories from Fat 84 Total Fat 9.4g Saturated Fat 5.7g Trans Fat 0.0g Cholesterol 37mg Sodium 107mg Potassium 56mg Total Carbohydrates 16.2g Sugars 12.6g Protein 2.5g Vitamin A 4% - Vitamin C 0% - Calcium 3% - Iron 3% Nutrition Grade F
7.8.1.2
111
https://sparklesnsprouts.com/2016/01/08/cream-cheese-brownie/
All images are the property of Sparkles n Sprouts, to use image please contact the webmaster at michelle@sparklesnsprouts.com
A little later on I was passing through the breakfast room I noticed someone had a brownie and then it hit me…The Hubby knew my hiding place!  I went and looked and realized there was only 1 little brownie left…just ONE!  The six of them had eaten 18 brownies (I had one earlier in the day…shhhh don't tell) … they really are that good.  In order to save my pic I stole the last brownie and immediately went to take my picture …before anyone else had to chance to snag the last one.
Dont worry after I took the pic I did offer the last one to the family…and trust me there was a little fight for it…next time I think I will double the recipe, especially when the family is coming over. 
Make everyday sparkle – MJ