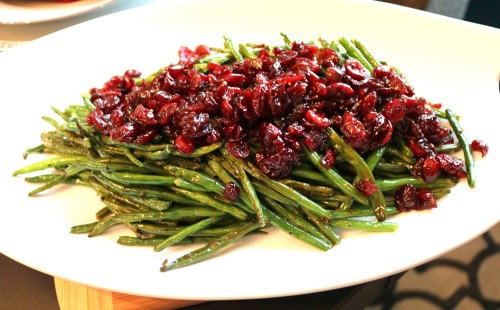 a cranberry is not just for the Holidays…
I don't know about you but sometimes the sides are the hardest part of a healthier lifestyle.  I mean how many stalks of broccoli can you eat?  With that being said I am always on the hunt for new sides that are not only healthier but also delicious and if they are nice to look at then that is a win, win and these cranberry green beans are a win, win for sure.
As I have mentioned before, the only veggie I would eat growing up was green beans.  My family was not one of those that you had to finish everything on your plate before you left the table, but if green beans were on my plate I would finish those for sure (I would also finish my potatoes, but now I know they weren't veggies).  For the most part we ate green beans either from the can for from my MeeMaw's garden that she had canned herself and every once in a while we would eat some fresh green beans but it was pretty rare.  As I have grown-up I have fallen in love with fresh green beans…and this recipe is a perfect example of why fresh green beans are just so, so good.
I have made green beans all different ways but one of my most favorite is roasted, like this super simple recipe. I season them with a little olive oil, salt & pepper and roast them in the oven until they are tender and they are so, so good…but every once in a while it is nice to change it up a bit.
Over the holidays I found myself using tons of dried cranberries in a lot of my baking and then it hit me…why not pair them with a veggie for a side dish.  They are a sweet little bit of goodness that are a healthier option and the color is so vibrant they would look beautiful in a dish on any table.  My first idea was to pair these little jewels with broccoli but then green beans hit me…why not roast the green beans and then plump up the dried cranberries with a few other fun ingredients and then toss together with the roasted green beans to make a delicious and very pretty side dish.  
MJ
8 servings
Cranberry Green Beans
A beautiful green bean side dish that is delicious and super easy to pull together, and it tastes AMAZING with a perfect balance of sweet and savory in each bite
5 minPrep Time
30 minCook Time
45 minTotal Time
Ingredients
2 lbs fresh green beans, washed & trimmed
2 tsp extra virgin olive oil
2 tsp salt
1 tsp pepper
2 tbsp butter
2 tsp soy sauce
2 tsp brown sugar
1 tsp worcestershire sauce
1 tsp salt
1 tsp pepper
1 cup dried cranberries
Directions
Preheat oven to 425
Line a rimmed baking sheet with foil
Place green beans on baking sheet
Drizzle with olive oil and toss to coat
Sprinkle salt & pepper over green beans and toss once again to coat evenly
Place into oven and roast until tender and starting to brown on the ends, about 20-25 minutes
In a small saucepan melt butter over medium heat
Whisk in soy sauce, worcestershire sauce, salt, pepper and let cook for 1-2 minutes
Remove from heat and stir in cranberries, letting sit until green beans are done
Place cooked green beans onto serving platter and spoon cranberry mixture over the top
Serve immediately or cover and serve later in the day (it will reheat beautifully)
ENJOY!!
Notes
Each serving is 3 WW Smart Points:
Nutritional Info Calories 81 Calories from Fat 38 Total Fat 4.2g Saturated Fat 2.0g Trans Fat 0.0g Cholesterol 8mg Sodium 981mg Potassium 271mg Total Carbohydrates 9.9g Dietary Fiber 4.5g Sugars 2.2g Protein 2.2g Vitamin A 18% - Vitamin C 37% - Calcium 5% - Iron 8% Nutrition Grade A-
7.8.1.2
112
https://sparklesnsprouts.com/2016/01/07/cranberry-green-beans/
All images are the property of Sparkles n Sprouts, to use image please contact the webmaster at michelle@sparklesnsprouts.com
I decided to make this for our Mammaw's family Christmas dinner and served it with my peppered beef tenderloin and some mashed potatoes.  So when I told The Hubby about these cranberry green beans he looked a little concerned (as he does a lot when I get into my recipe creating mode) and my dad didn't seem to excited about it either, but once I got them to try them they both agreed these were some amazing green beans.  They are a little sweet, and a little tangy with the freshness of the green beans making for a great bite.
Trust me, this will become a favorite (& healthy) side dish…and it is so pretty…sorry that is my girly side coming out.  I hope this new side dish will be a welcome addition to this new year.
Make everyday sparkle – MJ