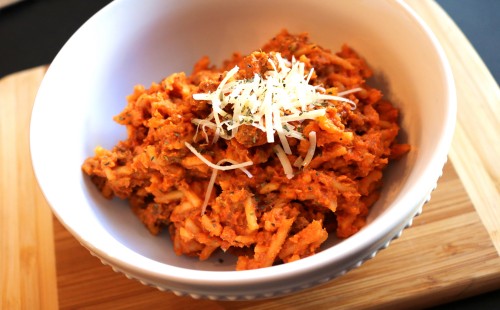 starting 2016 with a bang & spaghetti
Don't let the name of this dish fool you…this cream cheese spaghetti is still an under 400 calorie dinner that is perfect for your busy nights.
It is no secret that I love my slow cooker but I especially love it when it involves pasta.  I think I could eat pasta everyday and this dish would be at the top of the list for sure.  It is rich and creamy, but without a ton of guilt which makes it even better.  To start with I used ground turkey, which I love to use in my pasta dishes…it gives the same texture of ground beef but with a lot less fat and calories.  To make it even better I used my favorite homemade pasta sauce, which is so easy to pull together but tastes like it cooked all day,  adding a richness to this dish without having to add a ton of extras.  Next throw in a few more ingredients (that you probably already have on hand) and you have got yourself a perfect dinner.
The added cream cheese adds a creaminess (no pun intended) to the dish that really pulls it all together making it something everyone is sure to love…even the kids.
MJ
12 servings
Slow Cooker Cream Cheese Spaghetti
A creamy slow cooker spaghetti that is super rich and perfect for a busy weeknight dinner
20 minPrep Time
7 hrCook Time
7 hr, 20 Total Time
Ingredients
1 lbs Italian Turkey Sausage
1 small onion, chopped
3 garlic cloves, minced
6 cups pasta sauce, divided
1 1/2 lbs spaghetti noodles
1/2 cup grated parmesan cheese
12 oz reduced fat cream cheese, cut into cubes
2 cups chicken stock
Directions
In a skillet brown sausage, over medium high heat, breaking it up as it browns
Once cooked remove and set aside
In the same skillet cook onions over medium heat until softened, about 4-5 minutes
Add in garlic and cook for an additional 2-3 minutes
Stir in sausage to the onions and garlic until well combined
Remove from heat, set aside
In a large slow cooker pour in enough pasta sauce to cover the bottom of the slow cooker (2-3 cups)
Break noodles in half and place on top of sauce
Pour cooked sausage over noodles
Sprinkle parmesan cheese and cream cheese over sausage
Pour remaining pasta sauce over the cream cheese
Cover slow cooker and cook on high for 2 hours or on low for 6 hours
After preferred cooking time stir mixture and make sure pasta is tender
Stir in 1 cup of chicken stock until well combined and cook on low for an additional 30 minutes
Stir again, making sure cream cheese is stirred in and serve
ENJOY!!
Notes
Each serving (about 1 1/4 cups) is 10 WW Smart Points:
Nutritional Info Calories 312 Calories from Fat 84 Total Fat 9.3g Saturated Fat 4.6g Trans Fat 0.0g Cholesterol 70mg Sodium 1200mg Potassium 87mg Total Carbohydrates 44.0g Sugars 1.7g Protein 13.3g Vitamin A 8% - Vitamin C 1% - Calcium 10% - Iron 11% Nutrition Grade C
7.8.1.2
113
https://sparklesnsprouts.com/2016/01/05/slow-cooker-spaghetti/
All images are the property of Sparkles n Sprouts, to use image please contact the webmaster at michelle@sparklesnsprouts.com
So when I was making this dish my brother called and asked what I was cooking for dinner…when I told him spaghetti he very craftily said something along the lines of "oh wow that sounds really good…sure wish I was having that too"… so me being the good big sister I am, after I fed The Hubby (by the way he loved it) I put together a little to go box and took it over to my brother and nephew…both of which LOVED it!  Just to be safe I also made a to go box for my dad (he is a HUGE pasta lover) and ran it over to him too, and he loved it as well.  Anytime I can prepare something that all the men in my family love I know it is good…and they all loved it (even the littlest one).
Bring your slow cooker into 2016 with this super delicious cream cheese spaghetti that is sure to be a hit with everyone (plus it is lightened)!
Make everyday sparkle – MJ