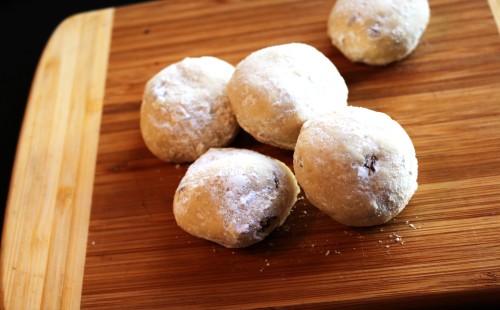 No matter where you live you can have snowball fun…even with no snow.  Growing up in Southeast Texas it is rare (like never) that we have enough snow to make a snowball…so this year I decided to make my own snowballs…COOKIES that is.
These cookies have been a favorite of my mom's for years but I had never made them until just recently.  I was getting ready for my annual gift baskets and I knew I wanted a cookie that light & buttery with nuts and these immediately came to mind.   To make them perfect I decided to search through some of my grandmother's old cookbooks and came across a good recipe but I knew I could make it a little better so the fun began.  
The original recipe called for toasted almonds…you see they were called tea cakes and said they were perfect for a nice ladies luncheon or wedding shower (it was a very old church ladies cookbooks), so to make them perfect for Christmas I changed up the nuts and added in some additional vanilla to make them even better.  I personally prefer pecans over almonds but walnuts or pistachios would work great as well.  Really whatever you prefer will work.
MJ
30 cookies
Snowball Pecan Cookies
Tender, rich and perfectly sweet cookies studded with bits of pecan in each bite
20 minPrep Time
17 minCook Time
1 hrTotal Time
Ingredients
Cookie:
1 cup butter, softened
2/3 cup powder sugar
1/2 tsp salt
3 tsp vanilla
3 tbsp cornstarch
2 cups flour
5 oz chopped pecans
Coating:
1 1/2 cups powder sugar
Directions
Preheat oven to 350
Line cookie sheets with parchment paper, set aside
In the bowl of a stand mixer with a paddle attachment beat butter until creamy, 30-45 seconds
Slowly add in powder sugar and salt mixing until just combined
Drizzle in vanilla, mixing until combined
Scrape down sides and sprinkle cornstarch & flour evenly over cookie batter and then mix until well combined
Fold in pecans, mixing until well distributed
Roll cookies into 1 in balls and place onto baking sheets
Bake for 15-18 minutes, or until cookies are just browned on the bottom (mine were perfect at 17 minutes)
While cookies are baking place remaining powder sugar in large bowl
Remove cookies from oven and let cool for 3-4 minutes and then roll in powder sugar
Place coated cookies onto cooling rack to cool completely
Once cooled roll in powder sugar again if you so desire, I prefer only rolling once in powder sugar but it is up to you
ENJOY!!
Notes
Each cookie is 6 WW Smart Points:
Nutritional Info Calories 130 Calories from Fat 72 Total Fat 8.0g Saturated Fat 3.5g Cholesterol 14mg Sodium 68mg Potassium 26mg Total Carbohydrates 13.7g Dietary Fiber 0.6g Sugars 7.3g Protein 1.2g Vitamin A 3% - Vitamin C 0% - Calcium 1% - Iron 2% Nutrition Grade C-
7.8.1.2
118
https://sparklesnsprouts.com/2015/12/21/snowball-cookies/
All images are the property of Sparkles n Sprouts, to use image please contact the webmaster at michelle@sparklesnsprouts.com
As I mentioned before this is one of my moms favorite cookies so I decided to surprise her with a batch.  When I walked in with them she was so surprised and immediately tried one.  She loved the pecans and the powder sugar coating…she actually loved them so much so that she hid them from my dad and had them all eaten in a matter of a few days…that is always a sign of a good cookie in my mom's house.
Go ahead and get your snowball making on whether you have snow or not…trust me these snowball cookies will a perfect Holiday treat.
Make everyday sparkle – MJ