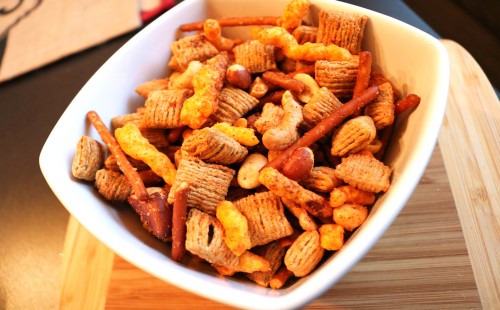 a little naughty (and nice) snack mix…
Ok I have to admit something…I have a secret love for snack mix, the sweet and salty snack mixes.  I love the mix of sweet and salt in each bite in really anything but for snack mix I am especially a fan, and this particular mix is a FAVORITE of mine for sure.  
Now I know when you look at the ingredient list it may seem a little strange, but trust me when you take your first bite you will totally understand why I love it.  The oatmeal cereal mixed with the cheetos, peanuts and pretzels all by themselves make for a great mix but when you add in the butter mixture it becomes AMAZING!
SO this snack mix was first introduced to me by my sis-in-law Mary.  I was at their house one day and there was a big bag on the counter with cheetos (and some other stuff) and it caught my eye.  Ever since I was a little girl I loved cheetos, so I had to find out what this mix was.  Mary told me to try it and then she would tell what it was all about, and of course I did and I loved it.  I recognized the oatmeal cereal and the pretzels but there was something different about it all, something that made it super rich…garlic powder & butter.  Over the years I have had it many times at Mary's but this year I decided to make it on my own for some gift baskets I was putting together, but I decided to add in a few things just to make it a little different from the original version.  First I added in nuts, and then some worcesterhsire sauce to the butter mixture…both of which I love and it really did add a depth to the mix that was so, so good!
MJ
24 servings
Naughty & Nice Snack Mix
A delicious sweet and salty snack mix that is a perfect combo in each bite
5 minPrep Time
30 minCook Time
1 hrTotal Time
Ingredients
6 cups toasted oats cereal
2 cups pretzel sticks, broken in half
2 cups mixed nuts (or any nut you choose such as pecans, almonds or peanuts)
3 cups Cheeto's (I used the original but puffed or spicy would work as well)
1 cup butter
2 tsp worcestershire sauce
2 tsp garlic powder
1 tsp onion powder
1 tsp chili powder
1 tsp pepper
1/2 tsp salt
1/2 cup grated parmesan cheese
Directions
Preheat oven to 275
Line a large rimmed baking sheet with parchment paper (or foil), set aside
In a large bowl combined cereal, pretzels and cheetos
In a microwave safe bowl or cup melt butter
Stir in worcestershire sauce, garlic powder, onion powder, chili powder, salt & pepper into butter until well combined
Pour over cereal mixture and toss to coat
Sprinkle cheese over cereal mixture and toss once again
Spread mixture onto prepared pan into an even layer
Bake for 30 minutes, tossing every 10 minutes
Remove and let cool completely (20-30 minutes at least) before serving
ENJOY!!
Notes
Each serving (about 1/2 cup) Is 6 WW Smart Points:
Nutritional Info Calories 158 Calories from Fat 99 Total Fat 11.0g Saturated Fat 5.4g Trans Fat 0.0g Cholesterol 21mg Sodium 307mg Potassium 60mg Total Carbohydrates 13.6g Dietary Fiber 1.3g Sugars 0.8g Protein 2.4g Vitamin A 8% - Vitamin C 3% - Calcium 4% - Iron 15% Nutrition Grade C
7.8.1.2
120
https://sparklesnsprouts.com/2015/12/18/naughty-nice-snack-mix/
All images are the property of Sparkles n Sprouts, to use image please contact the webmaster at michelle@sparklesnsprouts.com
If you are not a fan of nuts, or prefer only one variety, make it your own.  Also you can use really any cereal you would like, but trust me this oatmeal cereal makes for a perfect bite.  For a little spicy kick you can use hot cheetos or add in some cayenne pepper to the butter mixture….whatever you like you can do, this recipe really is that versatile.  You could even add in some M&M's if you wanted…for some extra fun.
The Holidays are a perfect time to make a favorite snack mix and trust me this snack mix will become a family favorite for sure!
Make everyday sparkle  – MJ