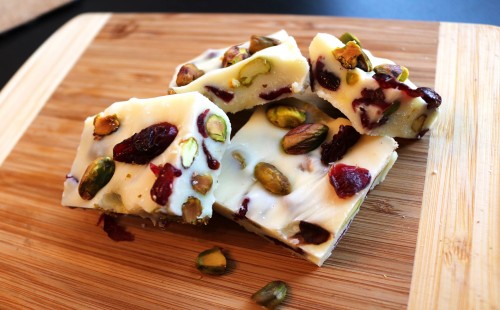 a new Holiday treat…yes it's fudge
Do you have a favorite treat that you only have at Christmas?  For me family it was always my MeeMaw's sugar cookies and english toffee, for my mom is is white chocolate peppermint candy, for The Hubby it is a broccoli & cheese casserole that his mom makes and for my dad it is fudge.  Now I am pretty good in the kitchen and can handle most everyones favorites but fudge has always been a little intimidating.  There is just something about candy thermometers that scare me just a little bit…but this year I was determined to find a fudge that he would love and that did not require any candy thermometers at all.  
After some research I discovered a great solution, melted chocolate with sweetened condensed milk…and voila you have fudge in no time and with no candy thermometers at all!  To make it festive and perfect for Christmas I decide to combine two favorite Holiday tastes…dried cranberries and pistachios!  Now I have used this combo before in cookies and I thought it would be perfect in fudge as well…and it was!  The tartness from the cranberries and the little bit if salt from the pistachios and then the sweetness from the fudge makes for a prefect bite.  Now this super creamy fudge is delicious but know that it is very rich so a little piece will go a long way, so little squares are all you need.
MJ
48 squares
Pistachio Cranberry Fudge
A super creamy fudge loaded with tons of pistachios and cranberries in each bite that comes together so fast and all without a candy thermometer making it a super easy fudge!!
15 minPrep Time
15 minTotal Time
Ingredients
1 - 14 oz can sweetened condensed milk
3 cups white chocolate chips
1 tsp vanilla
1/2 tsp salt
1 1/2 cups dried cranberries, divided
1 cup shelled pistachios, divided
Directions
Line a square pan (8x8 for thicker fudge) with parchment paper, set aside
In a medium saucepan, over medium low heat combine sweetened condensed milk & white chocolate chips until melted and smooth
Remove from heat and stir in vanilla & salt until well combined
Stir in 1 cup cranberries and 3/4 cup pistachios until well distributed
Pour into prepared pan
Sprinkle remaining cranberries and pistachios over the fudge and gently press down, if needed
Let sit at room temperature for at least 4 hours to set up completely, but overnight is best
Cut into small squares
Serve & Enjoy!
Notes
Each square is 5 WW+ points:
Nutritional Info Calories 100 Calories from Fat 48 Total Fat 5.3g Saturated Fat 2.6g Trans Fat 0.0g Cholesterol 5mg Sodium 43mg Potassium 93mg Total Carbohydrates 11.8g Sugars 11.1g Protein 1.8g Vitamin A 1% - Vitamin C 2% - Calcium 5% - Iron 1% Nutrition Grade C
7.8.1.2
121
https://sparklesnsprouts.com/2015/12/15/cranberry-pistachio-fudge/
All images are the property of Sparkles n Sprouts, to use image please contact the webmaster at michelle@sparklesnsprouts.com
I not only made this fudge for my dad but I also made them for gift baskets I made for a good friend and his clients and it turned out so pretty (& so good) I had to make another batch ASAP.  The Hubby even loved it and he is not a HGE nut fan normally, but loved this combo.
Now that I have this super easy fudge down make sure to check back soon for another fun Holiday fudge recipe that will be perfect for a last minute gift or treat at your party!
Bring together some of the best flavors of the season in a super easy fudge…and I promise no candy thermometers are needed!
Make everyday sparkle – MJ