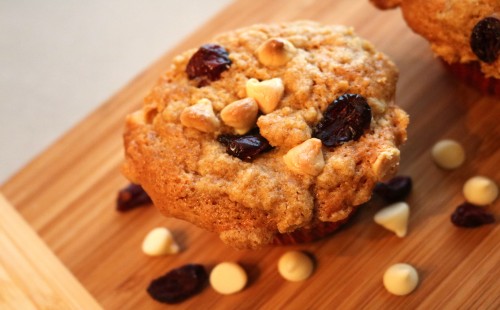 The Holiday are a perfect time to break out a fun new muffin for your family and friends and these muffins are definitely a treat.  Anytime The Hubby and I have family or friends stay with us I want to have a a special breakfast treat for them in the morning and muffins are a go to for me.  I love muffins because you can make a couple different varieties without much time or effort but they are filling and can look pretty impressive.  
For a special holiday treat I decided to bring together two of my favorites…cranberry and white chocolate.   I love this combo is pretty much anything such as these super easy shortbread cookies but these muffins are definitely a new favorite.  The muffin is a light and airy vanilla muffin that has a little buttery hint with vanilla without being overpowering.  You could definitely use this muffin recipe as a base and add in chocolate chips, another fruit (such as blueberries) to make even more muffins.  What I love about this cranberry white chocolate combo is the tartness of the cranberries really balance the sweetness of the chocolate making it a perfect bite…espsecially with a little extra butter smeared on it.  
MJ
16 muffins
Cranberry White Chocolate Muffins
Light and airy muffins dotted with cranberries and white chocolate in each bite making it a perfect morning treat
15 minPrep Time
25 minCook Time
45 minTotal Time
Ingredients
Muffin Batter:
2 1/2 cups flour
3 tsp baking powder
2 eggs
3/4 cup sugar
3/4 cup brown sugar
2 tsp vanilla
1/4 cup butter, melted
1/4 cup sour cream
1/2 cup half & half
1/2 cup milk
1 1/2 cups dried cranberries, divided
1 1/4 cups cup white chocolate chips, divided
Topping:
1 cup flour
1/2 cup brown sugar
3/4 cup butter, cut into cubes
Directions
Preheat oven to 350
Line muffin tin with liners or spray with nonstick spray
In a medium bowl whisk together flour and baking powder
In the bowl of a stand mixer with a whisk attachment, whisk together eggs, sugars and vanilla until it begins to thicken a bit (3-4 minutes)
Add in butter and sour cream and mix until just combined
With mixer on low stream in half & half and milk until just combined
Slowly add in flour mixture, whisking until just combined
Mix in 1 cup of cranberries and 1 cup white chocolate chips by hand until well distributed
Let mixture sit while you make the topping
To make the topping whisk together flour and brown sugar
Using your fingers incorporate butter into flour mixture until mixture is crumbly and resembles course sand
Once topping is made use a large cookie scoop (or ice cream scoop) to fill lined muffin tins almost to the top
Sprinkle topping over batter and then place a few dried cranberries and white chocolate chips from remaining amounts of both
Bake for 25 minutes, or until tops are browned and a toothpick comes out clean when inserted into the center
Remove and let cool in pan for 5 minutes and then remove and serve or let cool completely on a cooling rack
ENJOY!
Notes
Each muffin is 10 WW+ points:
Nutritional Info Calories 373 Calories from Fat 158 Total Fat 17.5g Saturated Fat 10.7g Trans Fat 0.0g Cholesterol 58mg Sodium 112mg Potassium 215mg Total Carbohydrates 49.8g Dietary Fiber 1.1g Sugars 27.5g Protein 4.9g Vitamin A 9% - Vitamin C 4% - Calcium 10% - Iron 9% Nutrition Grade D
7.8.1.2
124
https://sparklesnsprouts.com/2015/12/10/cranberry-white-chocolate-muffins/
All images are the property of Sparkles n Sprouts, to use image please contact the webmaster at michelle@sparklesnsprouts.com
My mom called when I was working on these muffins and the next thing I know she was at my front door…and I just had to laugh.  My mom is a huge fan of anything dried cranberries and white chocolate and will even drive over just to try out my latest treat with her favorite combo.
Make mornings special with these tender muffins loaded a little tartness and sweetness in each bite.
Make everyday sparkle – MJ