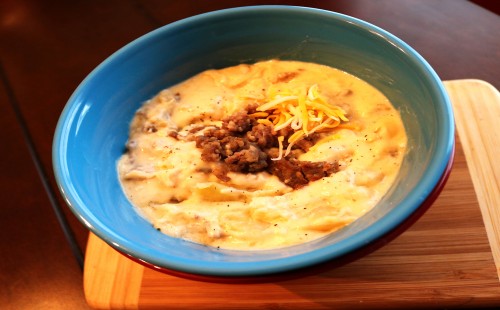 potato soup…a must have comfort
Are you still surrounded by all the goodness of Thanksgiving, or have you eaten all the turkey you can handle and are ready to move on and embrace all the warm comfort foods of winter…well for The Hubby and I we are ready to move on and this potato soup is a must make.  
After all the craziness of Thanksgiving, the endless eating & deal shopping I found it was time to settle into some decorating and a warm bowl of soup.  Anytime I ask The Hubby what soup he would like he immediately goes to potato soup or enchilada soup and this time potato won (only because I had everything on hand)…and I wanted to try a new potato soup recipe I had been dreaming up.  When I told The Hubby I was going to make him potato soup he got excited and then I broke the news…I was changing it up.  According to The Hubby I am always changing up favorites and can never make the same thing twice, and sometimes he just wants the same thing so I told him and if he didn't love it that I would make him potato soup again the next day and that seemed to appease him for the moment.
Since the challenge had been made I knew I had to make this soup something to remember and the first thing was to get the potatoes in the oven ASAP.  For me I love potato soup that has baked potatoes in it, I just feel it adds a depth of flavor to the soup that you just don't get from boiled potatoes, but if you do not have time to bake your potatoes you can boil them for sure, just add additional seasoning as needed.  To make this potato soup different but still super comforting I decided to add in some Italian turkey sausage.  I thought the sausage and potatoes would work well together and provide a richness to each bite that will keep you coming back for more.  To add an extra layer of creaminess I added in some sour cream and cheese at the end to make it all come together into a thick, rich and creamy soup that I love…but did The Hubby?  After the first bite he immediately smiled and said he loved it…whew I was off the hook for making potato soup the next day…but I did eat up the leftovers for sure…I am in love with this soup!
MJ
12 servings
Potato & Sausage Soup
A rich and creamy soup loaded with baked potato, sausage & cheese in each bite
20 minPrep Time
2 hrCook Time
2 hr, 20 Total Time
Ingredients
5 large potatoes
1 lb Sweet Italian Turkey Sausage
4 tbsp butter
1 small onion, chopped
3 garlic cloves, minced
4 tbsp flour
2 cups fat free half & half
3 cups fat free milk
1 tbsp pepper
2 tsp salt
1 cup reduced fat sour cream
1 cup mexican blend shredded cheese (or any shredded cheese you prefer)
Optional Toppings:
Additional shredded cheese
Additional sausage
Sliced green onions
Additional sour cream
Directions
Preheat oven to 400
Gently wash and dry each potato
Wrap in aluminum foil and bake for 1 hour, or until potatoes are soft when gently squeezed
Remove from oven and set aside to cool until they can be handled
In a dutch oven cook Italian sausage over medium high heat until browned, breaking it up as it cooks
When cooked remove from pot with a slotted spoon to a paper towel lines plate to drain
Reserving 1 tbsp drippings from sausage drain pot
Melt butter with the reserved drippings over medium heat
Add in onion and cook until soft, about 4-5 minutes, stirring often
Stir in garlic, cooking for an additional 2 minutes or until fragrant, stirring often
Whisk in flour, cooking for 3-4 minutes, to allow flour taste to cook out and roux to form
Whisk in half & half, whisking constantly to eliminate any lumps
Whisk in milk, pepper & salt and bring to a boil, and then reduce to a simmer until soup thickens
While soup is simmering spoon out the flesh of the potato from the skins
Stir potato, sour cream, reserved sausage and cheese into soup
Taste and adjust seasoning as needed
Serve with preferred toppings and ENJOY!
Notes
Each serving is 8 WW+ points:
Nutritional Info Calories 327 Calories from Fat 115 Total Fat 12.8g Saturated Fat 7.0g Trans Fat 0.0g Cholesterol 53mg Sodium 464mg Potassium 762mg Total Carbohydrates 35.8g Dietary Fiber 3.9g Sugars 7.7g Protein 14.3g Vitamin A 10% - Vitamin C 53% - Calcium 20% - Iron 9% Nutrition Grade B
7.8.1.2
127
https://sparklesnsprouts.com/2015/11/30/potato-soup/
All images are the property of Sparkles n Sprouts, to use image please contact the webmaster at michelle@sparklesnsprouts.com
I hope you will jump on the soup bandwagon and enjoy all the comfort it will bring on those cold winter nights.
Make everyday special  – MJ