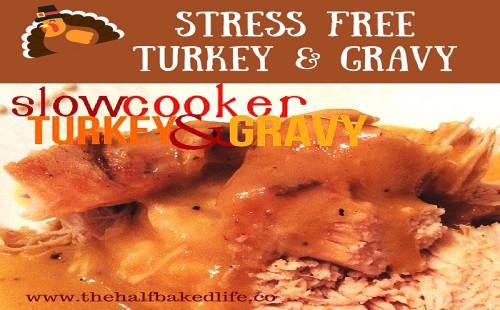 *** This is one of my most favorite ways to cook turkey…it comes out super juicy with tons of flavor and the gravy is AMAZING!!  I have made a few slight updates to this tried and true recipe. (updated November 2015)
With less than a week until Turkey Day, it is finally time to Talk Turkey.  One of the biggest challenges with big Holiday meals is the fact I only have 1 oven, as do so many people, but as you probably know it can make it hard to manage all the dishes at the same time and have everything ready and hot all at once…that is until now. 
Roasted turkey is one of those dishes that can either be great or it can be terrible, but I have found a solution…using a slow cooker to make a delicious turkey that is juicy, pretty and so easy!!  I went the very traditional route and just used salt, pepper, poultry seasoning and garlic powder, but you could make an herbed turkey with fresh or dried herbs, or you could do a southwestern turkey with chili powder and cumin…make it whatever is perfect for your Thanksgiving traditions.
For my first slow cooker turkey I went with a bone-in breast but you could easily use a boneless breast, but make sure to leave the netting on while cooking so that it holds it shape…trust me you will thank me in the end.  If using a boneless breast you might also be able to reduce cooking time to 6-7 hours, depending on size…just make sure to check the internal temperature.
MJ
8 servings
Slow Cooker Turkey
A delicious slow cooker turkey that is moist, full of flavor and no oven is neeed
20 minPrep Time
8 hrCook Time
8 hr, 20 Total Time
Ingredients
4 lb turkey breast (I used bone-in, but you can use boneless making sure to keep netting on during cooking)
2 tbsp. butter, room temperature
2 tsp poultry seasoning
1 tsp dried rosemary
2 tsp pepper
1 tsp garlic powder
1 tsp salt
3 cups fat free chicken stock
1 tbsp. butter, melted
Directions
Remove turkey breast from packaging and rinse with cold water
Pat dry with paper towels and place in a large slow cooker
In a small bowl combine butter, poultry seasoning, pepper, garlic powder and salt
Rub butter mixture all over turkey, inside (if using bone-in) and out
Pour in chicken stock
Cook on low for 6 hours
Carefully turn turkey over and check chicken stock level and add more if necessary, stock should be about 1/4 of the way up the turkey
Continue cooking for an additional 2 hours, or until turkey reaches 165 degrees when an instant read thermometer is inserted into the breast meat
Carefully remove turkey from slow cooker and place on a shallow baking dish
To create a more browned skin, brush melted butter over turkey and place turkey under a broiler for 5 minutes to allow it to brown up, this is optional though
Notes
Each serving is 6 WW+ points:
Nutritional Info Calories 285 Calories from Fat 73 Total Fat 8.1g Saturated Fat 3.5g Trans Fat 0.0g Cholesterol 109mg Sodium 2815mg Potassium 699mg Total Carbohydrates 1.7g Dietary Fiber 1.3g Sugars 8.4g Protein 40.5g Vitamin A 4% - Vitamin C 22% - Calcium 3% - Iron 21% Nutrition Grade B
7.8.1.2
135
https://sparklesnsprouts.com/2015/11/18/slow-cooker-turkey/
All images are the property of Sparkles n Sprouts, to use image please contact the webmaster at michelle@sparklesnsprouts.com
FYI…after how I much I love this turkey I will be making this often…it is perfect for sandwich's, casseroles or a family dinner.
 On my Thanksgiving table there must be gravy with the turkey, and I have to say this was a very good gravy.  I used the already seasoned cooking juices and created a delicious turkey gravy that was perfect on the turkey and all the sides.    If you wanted to add in some additional pepper, herbs or giblets you could for sure…but it is good on it's own.
The only thing I would change next time is to make more!!
I cannot wait to make this again and again…stay tuned for updated recipes.
Happy (half) Baked Day – MJ