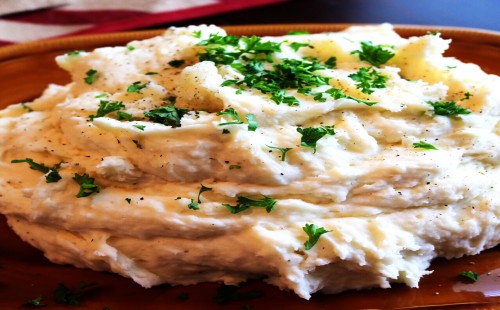 traditional mashed potatoes meet me
As I have said many, many times before I am a HUGE mashed potato fan.  I love the rich, creamy side dish & how they pair perfect with pretty much anything you put with them…I think they really could be the perfect side.
Now my go to mashed potato recipe is a favorite (you can find the recipe here) and one that was passed down from my MeeMaw making it even that more special but every once in a while I just have to change things up and this time it was my beloved mashed potatoes.  To make this already amazing side even more rich and more creamy I added in cream cheese.  Cream cheese?… you ask… now in the beginning I was a little hesitant too as I didn't want the mashed potatoes to end of gummy or too heavy but to my delight they were light, airy and AMAZING!!
So as a little experiment I didn't tell The Hubby that I changed up his favorite side dish (yes we both LOVE mashed potatoes) just to see if he would notice.  He took a couple of bites and then I asked how everything was and he said "really good" and then asked what was different.  I smiled and then I told him I changed up the mashed potatoes a bit…he took a couple more bites and said he loved them.  They were super creamy and different from my normal version, but really, really good.  Well after The Hubby's glowing review I knew they were a win win….they are actually so good I am going to make them for Thanksgiving instead of my traditional version.  We will see if anyone notices. 😉
MJ
12 servings
Cream Cheese Mashed Potatoes
Rich and creamy mashed potatoes that are loaded with tons of flavor and perfect for dinner this week or for the upcoming holidays
15 minPrep Time
20 minCook Time
45 minTotal Time
Ingredients
5 lb russett potatoes
4 garlic cloves, minced
6 oz reduced fat cream cheese
4 tbsp butter
1 cup fat free half & half
1 tbsp salt
1 tbsp pepper
Garnish with fresh chopped parsley (optional)
Directions
Fill a large stock pot 3/4 of the way with cold water
Peel each potato and cut into 2 inch pieces and place in pot with water
Stir in minced garlic
Cover pot and bring to a boil over medium-high heat
Cook until potatoes are fork tender, about 20 minutes
Drain potatoes & garlic through a colander and return potatoes to the same pot and place back on the stove over medium heat and stir to help potatoes dry out some
In a large microwavable measuring cup place cream cheese and butter into microwave and cook for 1 minutes, stirring after 30 seconds
Stir in milk, salt & pepper
Pour half of the butter mixture into the potatoes and using a hand mixer begin to whip up the potatoes until smooth, adding in more liquid as needed
Taste and adjust seasoning as needed
Serve with fresh chopped parsley
ENJOY!!
Notes
Each serving is 6 WW+ points:
Nutritional Info Calories 223 Calories from Fat 65 Total Fat 6.5g Saturated Fat 4.6g Trans Fat 0.0g Cholesterol 22mg Sodium 691mg Potassium 835mg Total Carbohydrates 28.8g Dietary Fiber 2.7g Sugars 3.2g Protein 5.1g Vitamin A 7% - Vitamin C 1% - Calcium 6% - Iron 1% Nutrition Grade C
7.8.1.2
137
https://sparklesnsprouts.com/2015/11/17/cream-cheese-mashed-potatoes/
All images are the property of Sparkles n Sprouts, to use image please contact the webmaster at michelle@sparklesnsprouts.com
Even if you have been making mashed potatoes the same way for years and years trust me this updated recipe will be a new favorite for sure.  
Make everyday sparkle – MJ
PS…Stay tuned for many more great sides for your Thanksgiving dinner