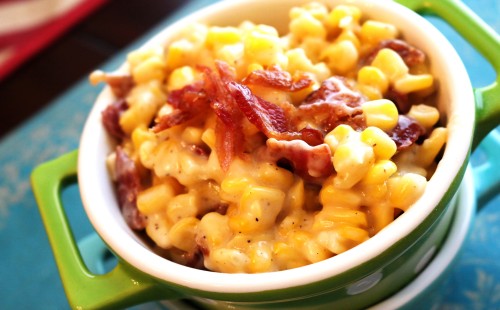 keep calm and eat bacon creamed corn
Thanksgiving is right around the corner…can you believe it?  I know I can't!!  My sis-in-law is hosting this year and that means I am only responsible for a few sides, but I want to make sure they are super delicious and something special that everyone will love.  And in my family creamed corn is just that, but I wanted to make it even better with some BACON!
If you were to ask The Hubby what is favorite foods are bacon would be the top 3 so anytime there is bacon in something I almost guaranteed he will love it, and this side was defiantly a winner.  
Now creamed corn is delicious on its own, but with bacon it is taken to next level for sure.  It is a little sweet, with a little hit of salt, rich and creamy all in one, making it a perfect side dish.  
So my MeeMaw would make creamed corn for my brothers every time we went to the farm to visit her and my Grandad.  It was one of her signature dishes for sure.  I was older when I really started to appreciate just how good this creamed corn dish really is, but once I did I now LOVE it, especially with bacon in it!
MJ
6 servings
Bacon Creamed Corn
A fun take on a favorite family side dish...plus everything is better with bacon, right?
5 minPrep Time
45 minCook Time
1 hrTotal Time
Ingredients
1/4 lb bacon
1 onion, chopped
2 tbsp flour
20 oz frozen corn, thawed
2 tbsp sugar
2 tsp pepper
1/2 cup whole milk
Directions
In a large skillet or dutch oven cook bacon until crispy over medium-high heat
Remove bacon and place on paper towels to drain, set aside
Add onion to skillet, with grease from bacon, and cook over medium heat until softened
Stir in flour, letting a thick paste form, stirring for several minutes to allow flour taste to cook out
Stir in corn, sugar, pepper and milk until no lumps remain
Cook over medium heat, stirring often, until mixture is thickened and corn is cooked through
Stir bacon back in and cook for an additional 5-10 minutes, stirring often to keep corn from burning
Serve & ENJOY!!
Notes
Each serving is 6 WW+ points:
Nutritional Info Calories 224 Calories from Fat 83 Total Fat 9.2g Saturated Fat 3.1g Trans Fat 0.0g Cholesterol 23mg Sodium 447mg Potassium 394mg Total Carbohydrates 27.6g Dietary Fiber 2.9g Sugars 8.8g Protein 10.7g Vitamin A 1% - Vitamin C 11% - Calcium 3% - Iron 17% Nutrition Grade B
7.8.1.2
140
https://sparklesnsprouts.com/2015/11/11/bacon-creamed-corn/
All images are the property of Sparkles n Sprouts, to use image please contact the webmaster at michelle@sparklesnsprouts.com
For Thanksgiving I will may keep it traditional without the bacon, in memory of my MeeMaw but trust me this Bacon Creamed Corn will definitely be making an appearance at many future family dinners.
Rich, creamy, and full of bacon sounds like a perfect side dish to me.
Make everyday sparkle – MJ